Our Nightly Schedule


Monday's - .50 Cent Wings
Free Raffle for 2 NFL Jerseys


Tuesday's - $2.00 TACOS from 4-10pm


Wednesday is our Pasta Night
You get a big plate of spaghetti & marinara sauce with garlic bread for only $2.00


Thursday's - Girls Night Out! Ladies receive a 25% DISCOUNT on all food items off the regular menu from 4-10pm
NFL Thursday Night Football


Fiesta Friday's
FREE Taco Bar from 3-6pm. $12.00 Buckets of Corona.


Saturday's Patio Party starts @ 4pm Till 10pm Thru October.
$2.00 BBQ Burgers, $2.00 Pints, $2.00 Fireball Whiskey Shots.


Sunday's - NFL All Day Long
During the NFL football season, we offer a breakfast menu, Bloody Mary's and Mimosas; a patio party with $2 pints, $2 burgers, and $2 Fireball Whiskey shots; and a FREE raffle for team jerseys during Sunday Night Football.



Address:

2400 East Fort Union Blvd ( 7200 South )
Salt Lake City, Utah
Phone: 801-438-8300


Directions:

We are located right next to Reams food store in a small shopping plaza less than 1.7 miles from the entrance of Big Cottonwood Canyon, home to Brighton & Solitude Ski Resorts.


Click Here To E-mail Us.


Our Menu


Map
Welcome to The Huddle, Salt Lake City's Best Sports Bar!

26 HDTV Large Monitors, Two of Them Are Massive Screens... What Else Can A Sports Fan Ask For?




How About The Full Ticket.. Yes, We Have The NBA, MLB, NASCAR, NFL & The PGA...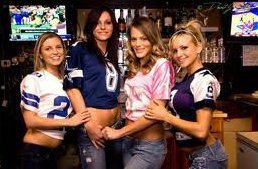 A friendly atmosphere anytime of the day. Come in for lunch, after work, play some pool, trivia, Texas Holdem or just join our locals and cheer on your favorite teams.


Daily Food Specials!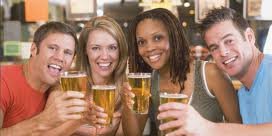 Our Location...

We are located less than two miles from the entrance of Big Cottonwood Canyon, home to Brighton & Solitude Ski Resorts.





Our Nightly Schedule


Monday's - .50 Cent Wings
Free Raffle for 2 NFL Jerseys


Tuesday's - $2.00 TACOS from 4-10pm


Wednesday is our Pasta Night
You get a big plate of spaghetti & marinara sauce with garlic bread for only $2.00


Thursday's - Girls Night Out! Ladies receive a 25% DISCOUNT on all food items off the regular menu from 4-10pm
NFL Thursday Night Football


Fiesta Friday's
FREE Taco Bar from 3-6pm. $12.00 Buckets of Corona.


Saturday's Patio Party starts @ 4pm Till 10pm Thru October.
$2.00 BBQ Burgers, $2.00 Pints, $2.00 Fireball Whiskey Shots.


Sunday's - NFL All Day Long
During the NFL football season, we offer a breakfast menu, Bloody Mary's and Mimosas; a patio party with $2 pints, $2 burgers, and $2 Fireball Whiskey shots; and a FREE raffle for team jerseys during Sunday Night Football.








Hours of Operation: 7 Days a Week ~ 11:00 a.m. Till Closing

Our Menu

Map



Address:

2400 East Fort Union Blvd ( 7200 South )
Salt Lake City, Utah
Phone: 801-438-8300

E-mail Us





Visitor Information Official Salt Lake City Utah Skiing Ski Salt Lake's Official

Salt Lake City Hotels Dining In Utah Park City Information